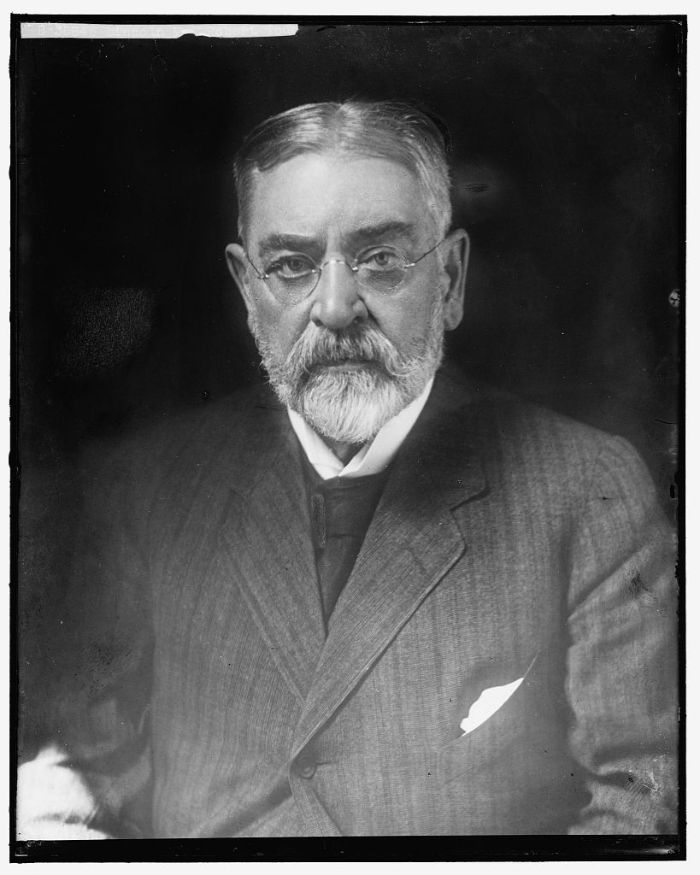 Robert Todd Lincoln and His Love of Golf
Robert Todd Lincoln joined Ekwanok in 1903 and the following year was elected president, a post he held continuously until 1926. During his long and successful law partnership with Ekwanok's first president, Edward Isham, the two men developed a close friendship of mutual respect. It soon became apparent that the Lincoln years would continue the same qualities of leadership and high standards set by Isham during the Club's founding years.

Lincoln was introduced to golf by Charles Blair MacDonald who invited him to join a group of men at the Chicago Club in July of 1893 to organize the Chicago Golf Club. He became one of its founding members and was elected its president in 1905 and again in 1906, while he was also serving as president of Ekwanok.
Lincoln was then in his early 50s — too old to become a good golfer — but he developed some talent by taking lessons from MacDonald and Jim Foulis Jr., Chicago's renowned professional. He was popular, became enthusiastic about the game and was frequently invited to play with top golfers and professionals. In 1900, Colonel George Harvey, ambassador to the Court of St. James, sponsored J.H. Taylor, the Open champion of Great Britain, in his visit to the United States. He contacted Lincoln, and they discussed making arrangements for the golf game at Harvey's golf club in Deal, New Jersey. Lincoln phoned MacDonald who agreed to join the group with Lincoln as his partner playing against Taylor and Judge Morgan J. O'Brian, also a member of Deal and friend of Col. Harvey's.
The match was even coming into the last hole, a short hole over water. As MacDonald described the events that took place:
"It was Lincoln's turn to drive. I cautioned him to take an iron with which he was extremely good, and not his driver with which he had been playing erratically. Nothing daunted he said, 'I shall take my driver' with the determination of reaching the green off the tee. Taking a mighty swipe at the ball, he sliced badly to the right onto a tennis court, ending up under the net. As they were playing 'alternative shots,' it was then MacDonald's turn to recover a good shot to the green, explaining the result as follows: 'Miraculously, I drove the ball close to 150 yards, ending up five feet from the hole. Lincoln holed the putt, tying the hole and the match."
Lincoln took his presidency at Ekwanok seriously. He was chairman of the Finance Committee for all the years he served, spending the Club's money wisely as needed for improvements. As busy as he was with business affairs, he attended a majority of Board meetings and all Annual meetings of Stockholders except the July meeting in 1926 just weeks before he died.
He brought many notable people to the Club. David Lloyd George, British statesman who became Prime Minister of Britain in World War I was one of many who stopped for an overnight visit with Lincoln. The two had met in London and both enjoyed conversations about politics and philosophy. William Howard Taft, a life-long avid golfer and fisherman, stopped to play golf with Lincoln on two or more occasions. Taft had a fishing camp in Maine and stopped in Manchester while passing through on the train.

Henry Ford played a round of golf with Lincoln in July, 1923. A month later Lincoln closed the golf course one afternoon as a tribute to his friend Warren G. Harding, whose funeral was held on that day.
Though Lincoln did not play in any of the Club's annual tournaments, he was interested in watching notable golfers who came to play the course and participated in the awarding of trophies to the winners of tournaments, particularly the Isham and Equinox Cups. From the long porch of the clubhouse, he followed the contestants with his telescope reporting the progress of matches to friends standing nearby. The "Lincoln Foursome," well-known to the membership, played regularly whenever Lincoln was in residence. The other members of the foursome were George Thatcher, Robert Janney, and Horace Young, all Board members and close friends.
Lincoln Dies at Age 82
On the morning of July 26, 1926, Lincoln was found dead at Hildene by his butler who was bringing him his breakfast. The cause was later diagnosed as a cerebral hemorrhage. A service followed at the Manchester Congregational Church, and after a brief internment in the Lincoln vault in Springfield, Illinois, Mrs. Lincoln had his body removed and buried in the Arlington National Cemetery in Washington, D.C..
At a special meeting of the Board of Governors, a resolution was passed which, in part, stated,
"When Mr. Lincoln was first elected our president in 1904, and entered upon the duties of his office, his individuality, unlike his name, was little known to most of us, but soon thereafter, a personality disclosed itself in him characteristic of a winsome quality and wisdom that won the hearts and excited the admiration of all about him."
"It is not for us to chronicle the career of one whose life and public service are events of worldwide repute. It is for us who are so closely associated with him in the later years of his life to give our sorrow words and express our deep sense of personal loss by the death of Mr. Lincoln, of whom we shall cherish in memory, images, and precious thoughts that shall not die and cannot be destroyed."
Whenever Lincoln came to the clubhouse, either alone or with a visiting friend, the atmosphere took on an aura of dignity and respect despite his attempts to put everyone at ease. He was constantly in the uncomfortable position of being criticized for an attempt to capitalize on his father's name, while if he tried to avoid the public gaze, he was considered snobbish, cold, and aloof. He loved his home at Hildene, where he could roam through his gardens, look at the Green Mountain range, and Mount Equinox, and study the movement of stars from his observatory.