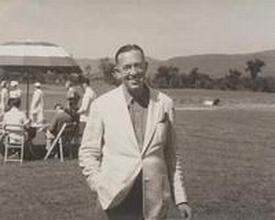 Ouimet was born May 8, 1893 in Brookline, MA. His father, a French Canadian immigrant, lived with his family in a small farmhouse across the road from the 17th hole of The Country Club. He worked as a gardener for several of the Club's wealthy members living nearby.
Francis became interested in golf as a small child finding stray golf balls near his home. He, with his brother, laid out a crude three hole course in a cow pasture behind their house and he practiced there constantly during the years he caddied at the Club.
His caddie years started at age 10 and soon thereafter he competed in a number of scholastic amateur tournaments, mostly in the Boston area.
When he became 16 he abruptly stopped being a caddie to preserve his amateur status but continued to play, practice and compete in local tournaments. Those were the years that golf was considered to be a sport for the elite and the elderly.
In 1913 when it was announced that the U.S. Open would be held at The Country Club, a friend persuaded him to try for the title. He brought along Eddie Lowery, his 10 year old caddie, and became one of the 49 qualifiers. After 4 days of play he ended up in a 3 way tie with two British greats, Vardon and Ray, and beat each of them in a playoff by 5 and 6 stroked respectively.
Sometime later golf historian, Herbert Warren Wind, described his victory as "the most important round of golf ever played." Immediately after his golf victory, golf in America and throughout the world began to expand beyond the elite and the elderly, to become the popular sport that it is today for anyone interested in giving it a try.
The following year, in 1914, Ouimet won the National Amateur title at Ekwanok satisfying a lifelong ambition to be Amateur champion of the United States. In an article for Golf Illustrated recalling his impressions of the course, Ouimet wrote:
"I cannot begin to convey the pleasure and relief of getting on the rain-softened Ekwanok turf after having experienced so much of the baked surface character of turf in some previous competitions. It was simply great to bang a shot right at the pin and feel a nice piece of turf come with the iron, all without any particular forcing. The sixteenth and eighteenth holes I consider two of the finest finishing holes on any course that has come under my observation and the fifteenth has its merits almost equal. Those who took part in the tournament I am sure will agree with me that the 16th and 18th holes are two of the finest two shot holes to be found anywhere and the 2nd is right in their class."
In his lifetime, he won the Massachusetts Open and Amateur championship several times, became a semifinalist in the National Amateur 9 times and was a Walker Cup participant 8 times.
Ouimet was the first American to become captain of the Royal and Ancient Golf Club in 1951. Only two other Americans later achieved that honor: Joe Dey and Bill Campbell.
In 1949 the Massachusetts Golf Association established the Ouimet Caddie Scholarship Fund at a dinner held in his honor and raised over $40,000 in its first year. The scholarship continues to this day.
In 1964 he was elected an honorary member of Ekwanok and in that year the Ekwanok Seniors Third Invitation Tournament was held in his honor.
The record shows that he had a handicap of 7 playing in the second flight with Allan Brown, Ray Foote and Ellis Knowes. Ouimet did not win a prize that year, but he and his partner, Charlie Pierson won the "beaten fours" in this same tournament the following year. About Ekwanok, Ouimet said "of all places I have visited in this country perhaps the one I enjoyed the most is Ekwanok in Manchester-in-the-Mountains."
Ouimet's caddie, Eddie Lowry, played Ekwanok in 1937 during the New England Golf Association Championship. He didn't duplicate his mentor's record of 1914, but he did become a finalist.
Ouimet died of a heart attack in 1967 at age 74. He was a modest man who by his very nature, and as an amateur, made golf a popular game by beating the unbeatable British.